12 Best Places You Must Visit in Jeju Island, South Korea
It is not an exaggeration that Jeju Island, off the South Korean peninsula, is one of THE hottest places to visit in 2023.  
Jeju island is popular for its un-developed nature, fresh seafood, black pork BBQ, and of course for the famous K-drama & K-pop video filming locations.  
The size of this beautiful island is 1,826km2, meaning it is larger than Seoul (605km2), Singapore (728km2), London (1572 km2), 
so make sure you stay long enough not to miss the island spots and enjoy what's on offer! Some people tend to allocate 3 to 4 nights in Jeju,
but if you have more holidays to spare, you cannot be bored with a week's stay in this gorgeous island.
So here are my top best places to visit in Jeju! Of course, you should do your own research to cater for what's right for you and your family.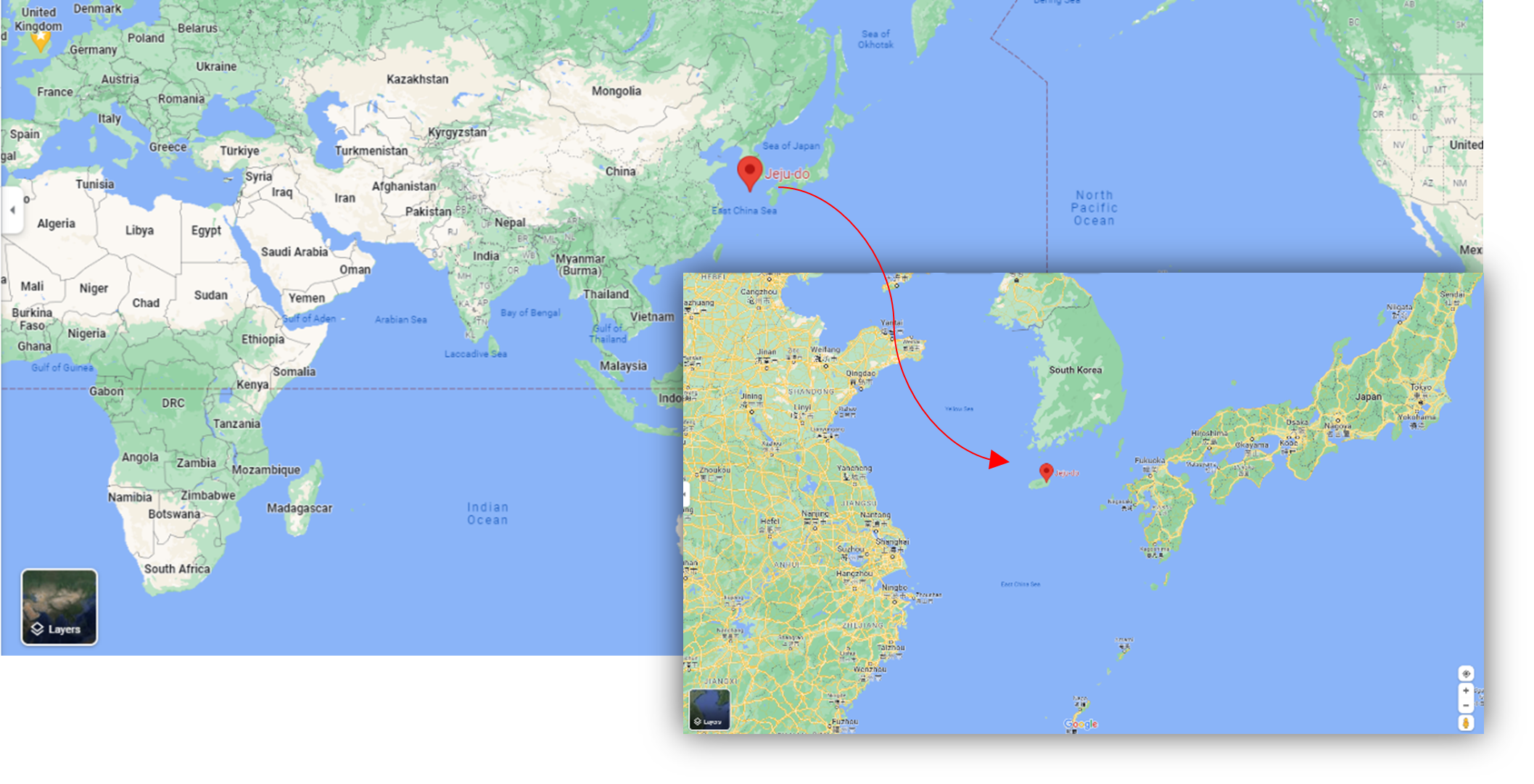 1. Secret Garden path – Olle 7 gil 
Olle gil (trail) is a long-distance footpath on Jeju Island founded by an ex-journalist.
The route follows the coastline and consists of 21 connected numbered main routes, 6 sub-routes.
Olle 7 gil is known to be the best Olle gils on the island for its scenic views and how well they are maintained. 
Tip: Start Olle 7 gil trail from GoldOne Hotel and make the most of it! 30 minute one way journey.
Explore the beach by turning right and crossing a cute bridge, when you reach the coastline.
There is a (secret) beach which makes you feel like you have just landed on a uninhabited island.
2. Mount Halla
If you are an outdoor person, Mount Halla hiking is definitely one of the things to do in Jeju.
It is the tallest mountain in South Korea at 1950 metres, and considered to be the best hiking places in Korea for its sacredness and the views. 
There are 2 paths (one considered milder course than the other) to reach the peak and will take about 4/5 hours one way (c. 9km).
You must book to hike Mount Halla as the authority limits the number of hikers to 1500 persons per day. 
Where to book: https://visithalla.jeju.go.kr/reservation/status.do
Tip 1: Have a hot bath in your room or soak in the heated swimming pool after the hike at GoldOne
– a great way to relax your muscles after 9 hours hike.
Tip 2: People start hiking early, around 6:30 am, as the authority will not let you hike up after noon
(12:30 during summer) since they close the area at 4:30pm for safety reasons.
Tip 3: Ensure you have enough water in a flask and snacks.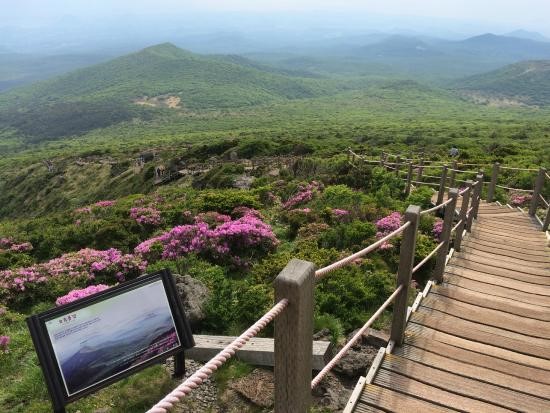 3. Wonang Falls (Donneko Valley)
One of the best and relatively unknown waterfalls in the island.
Especially in the summer, locals will be splashing at the pristine Wonang Falls,
as its icy cold water is perfect to cool down in the hot and humid summer in South Korea.
Its water comes directly from the depths of Halla mountain, and is a beautiful turquoise blue colour. 
Tip: Bring your own towels and good walking shoes to walk down the paths and boulders.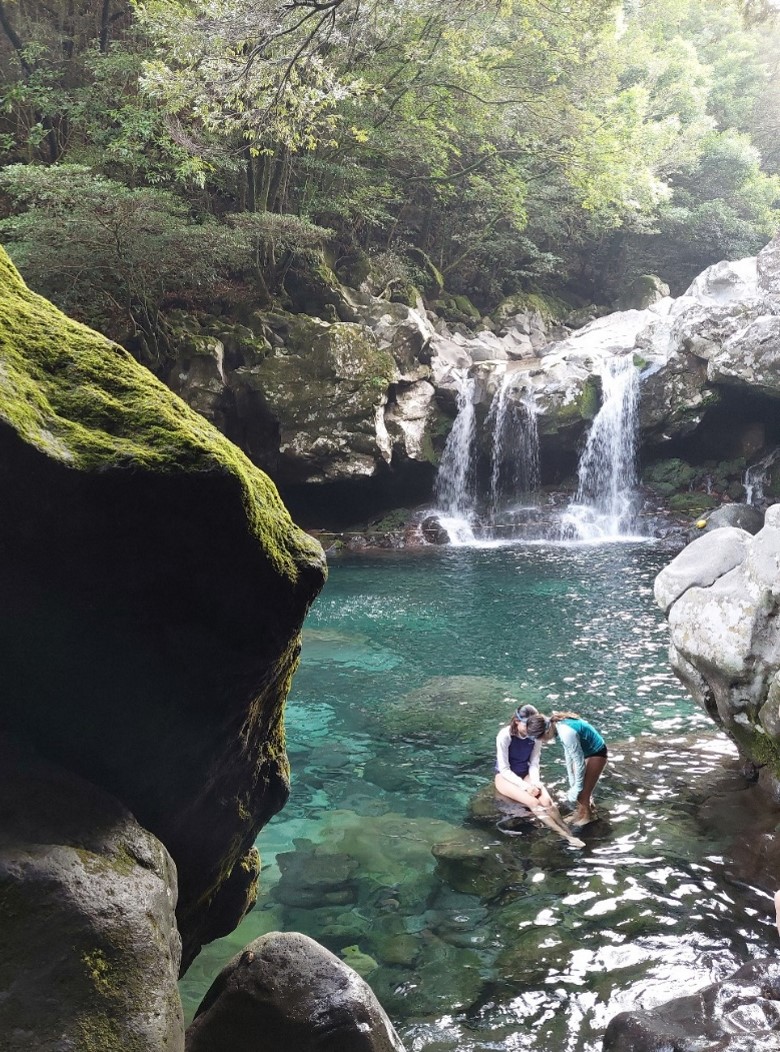 4. Hwangwooji coast (Fairies' pond)
When you get to Hwangwooji coast, there are 2 interesting things to see.
One is the fairies' pond, which is a seawater pool formed naturally by surrounding rocks.
The second interesting fact: if you look carefully you will see 12 caves along the coast. 
These are dug by the locals during the WW2 under the Japanese rules to hide torpedo boats.
Swimming inside the pond is a popular thing to do and you will see lots of people snorkelling. 
I have yet to snorkel in it so cannot tell what you see underneath but I was told by a local that there lives a giant octopus at the bottom of it.
(yet to be proven :-)
There is a large range of sea creatures, and it is lowkey secret place for locals.
In addition, the surrounding nature is extremely beautiful. There is also no entrance fee.
Tip: Bring a pair of sturdy shoes or flip flops as you need to descend sharp rocks to get to the pool.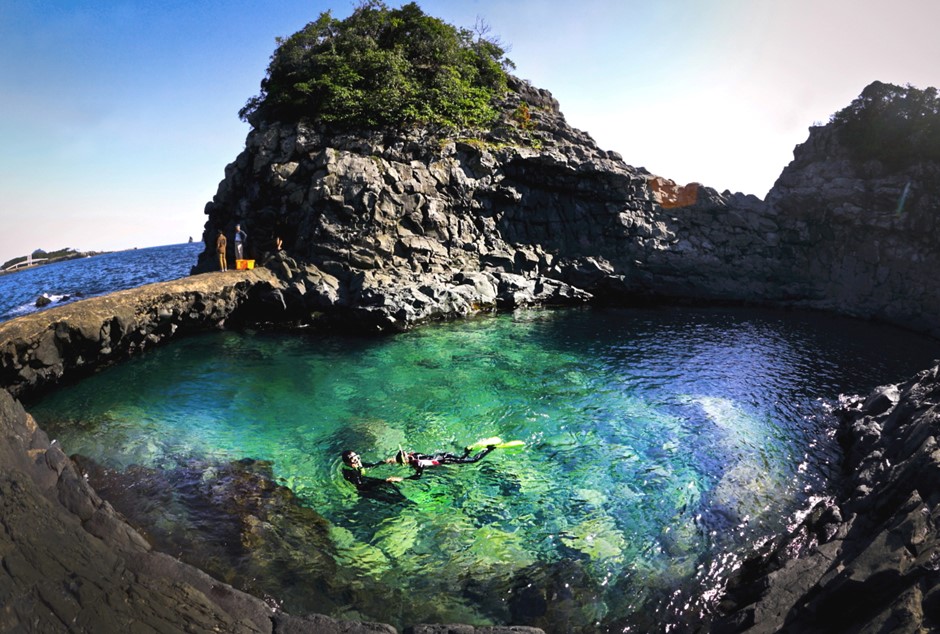 5. Seogwipo Boat Trip to Beom Island (80 minutes boat trip around Seogwipo coastline)  
Boat trips are best ways to enjoy the unique and beautiful coast lines of Jeju Island.
Ticket offices are at Seogwipo harbour, and the boats depart from near the ticket office.
Please enquire at the ticket office beforehand as the departure of boats depends on the weather and the ocean conditions for your safety. 
Tip 1: If you are vulnerable to sea sickness, take your medication beforehand as the ocean can get choppy.  
Tip 2: Don't forget to claim your 20% discount on the boarding tickets by showing your reservation email or guest information paper at GoldOne Hotel!
Tip 3: Beom Island is considered the best place to ocean divers in South Korea so if you are interested in diving whilst in Jeju,
there are a number of organised diving trips from near GoldOne! Please enquire.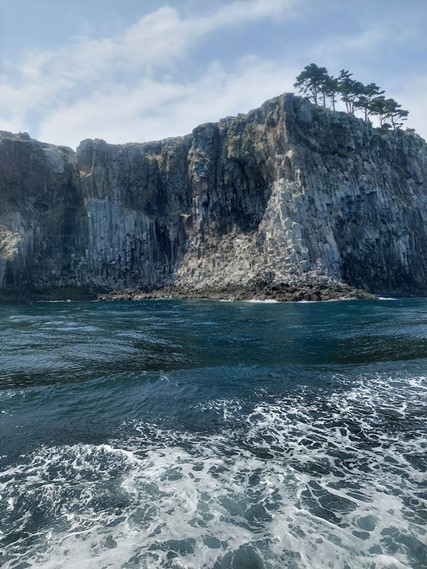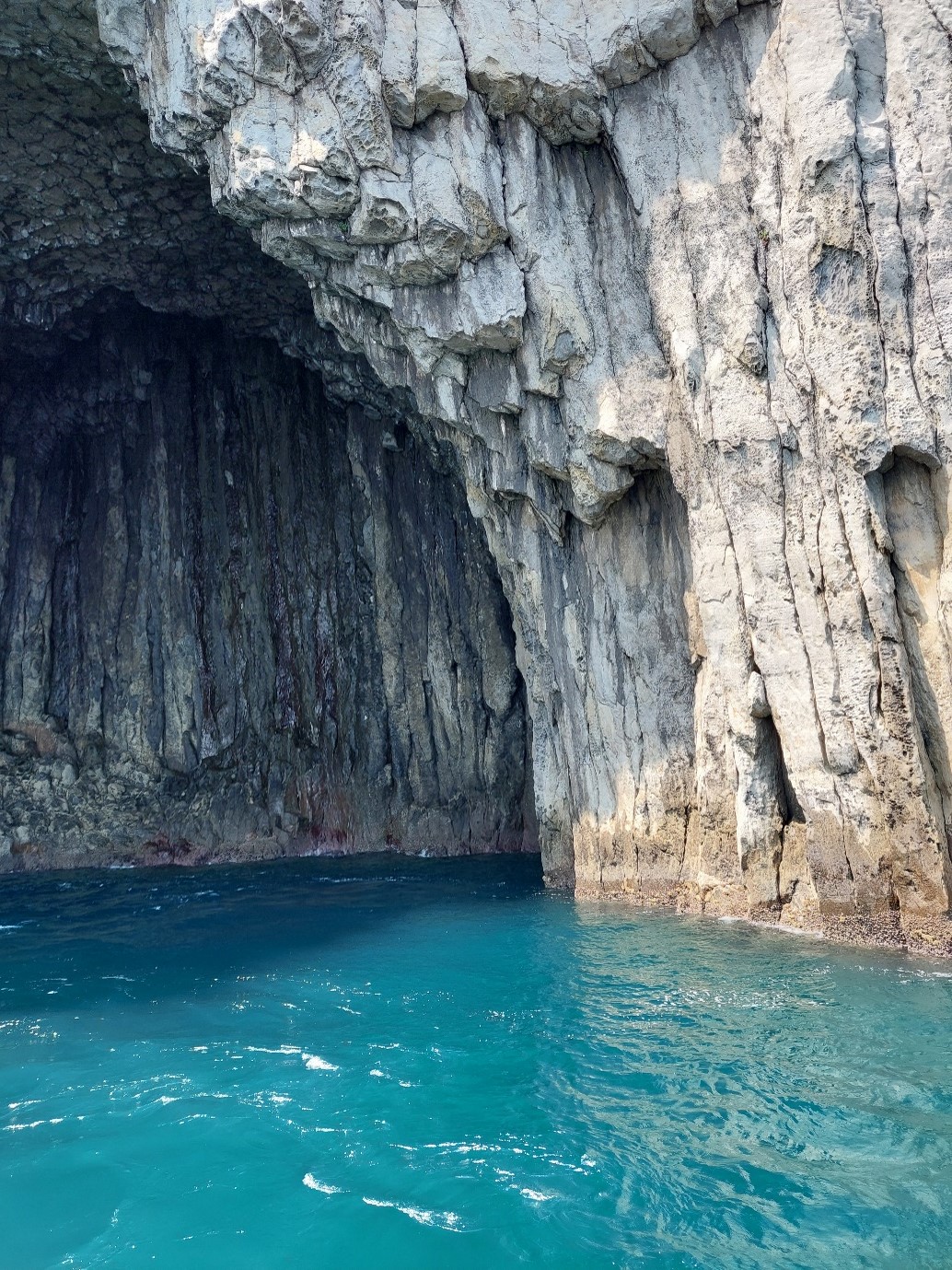 6. Seogwipo Olle Food Old Market 
Open 365 days a year, Seogwipo Olle Food Old Market is the oldest market in Seogwipo.
Located at the centre of Seogwipo, you should try black pork street food, sashimi straight from the fish tank,
Jeju fresh tangerines and juice from the Halla bottles, Squid game's Dalgona, Omegi rice cakes, and lots more! (I am salivating as I type! :-) 
There are car parks (charged) near the market (at economic prices) and it will be an experience driving your vehicle
on a very tight road with lots of pedestrians oblivious of vehicles. Be patient and you will get to drive in. 
Tip 1: The sellers take both credit cards and cash  
Tip 2: Go to the market with empty stomach as you will find lots to eat if you like Korean street food and fresh seafood.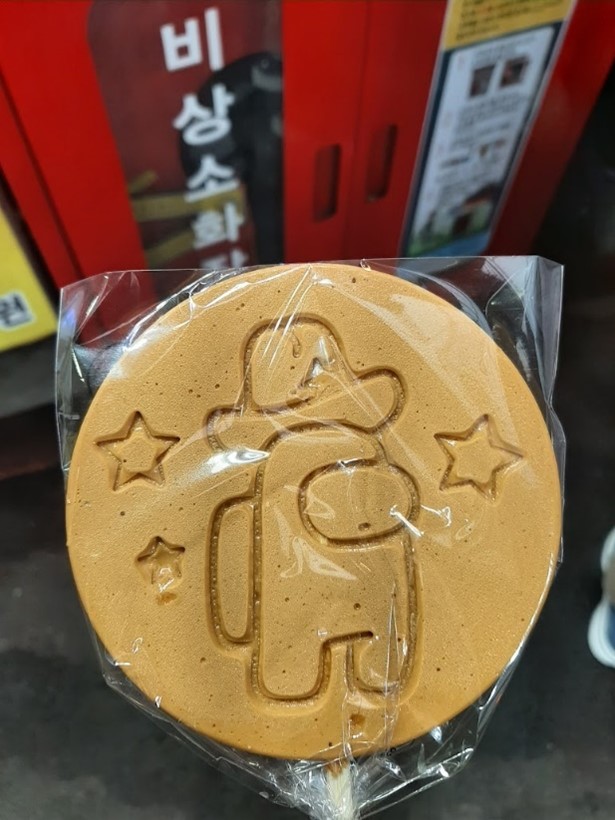 7. Chunjiyeon Waterfall 
There are 8 waterfalls in Jeju, of which 3 are temporary waterfalls when there is heavy rain.
All of them are located in Seogwipo, which tells you that Seogwipo is for nature seekers and people who love the beautiful natural world.
I chose Chunjiyeon waterfall as my second choice of waterfall to visit near GoldOne
because its proximity to Seogwipo old city, and how well maintained the place is. 
There is a vast parking space, and many convenient stores, plus a really nice walking path to the waterfall which is really lovely. 
Also, Chunjiyeon waterfall has mythical folk tale. Once upon a time, there lived an intelligent and beautiful lady called Soonchun
who won many young hearts of men in the village. According to the ancient tradition, she had an arranged marriage,
but a man named Myungmoon became upset because he liked her. One day, Soonchun returned to the village,
and when Myungmoon saw her at the top of Chunjiyeon waterfall, he asked her to marry him.
She firmly stated her loyalty to her husband and declined this offer.
Myunmoon became extremely angry and tried forced her to jump off the waterfall with him.
Suddenly, a dragon jumped out of the water, grabbed Myungmoon, and flew away, and only a marble remained at Soonchun's feet.
She safely returned home and lived happily with her beloved husband and lots of healthy and successful children.
She was praised for all the luck in the family and was highly regarded in the village. 
Tips: There is an outdoor car park (charged) so you can bring your car.
Takes about 15 minutes to reach the water fall by walking.
You can sit and keep your feet in the water to cool but no one swims in the pond. 
The views are also extremely beautiful in the night when it is open.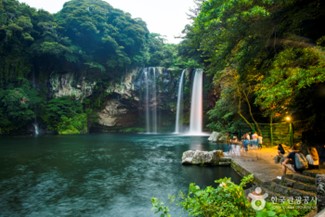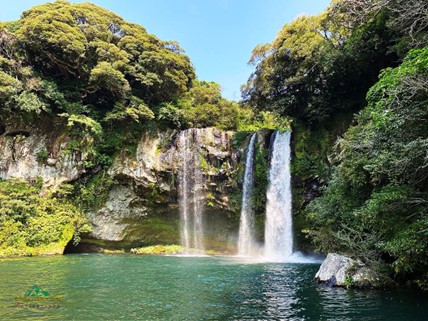 8. Dragon's head Coast (Yongmuri Coast)
Famous for its shape of a huge dragon trying to fly towards the ocean from Mount Halla from a bird's eye view,
Yongmuri coast is the must place to visit.
Takes about 30 minutes to stroll around and you must check if the place is open to visitors as it can shut due to weather and tide.
This place boasts truly jaw droppingly beautiful scenes of nature that will stay with you forever!
Tip: Check the visitors' time during the day to avoid disappointment.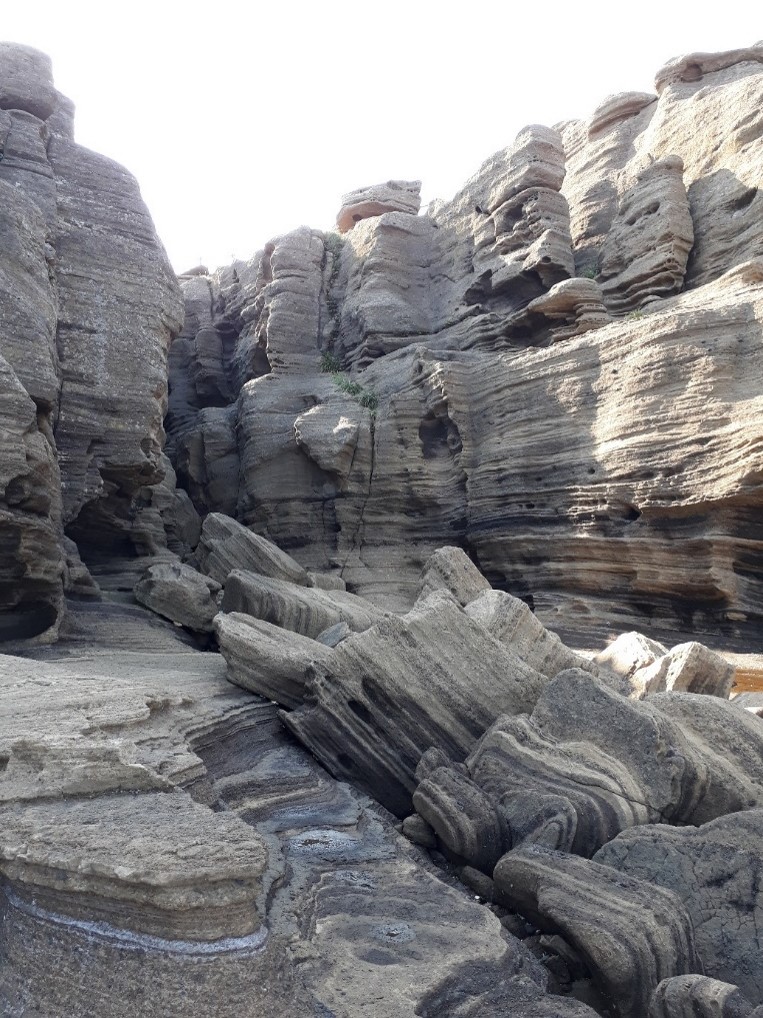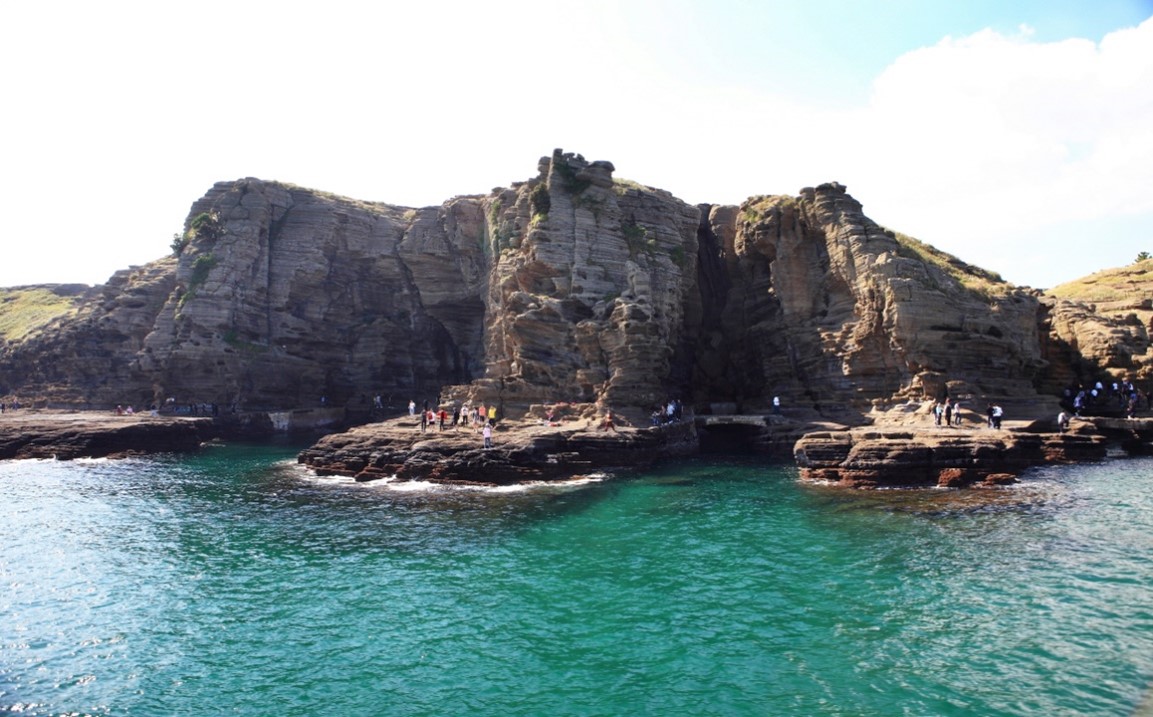 9. Aqua Planet 
Located at the Northeast end of Jeju, and near Seongsan ilchullbong (Sunrise Peak), is your Aquarium in Jeju island.
It features thousands of local fish and rare marine creatures from five oceans across the world.
It's definitely not your usual small and unremarkable aquarium - its size, scale, beauty and well-maintained facility will impress you! 
Tip: They have planned shows (at the big tank) and feeding time so check online or at the entrance.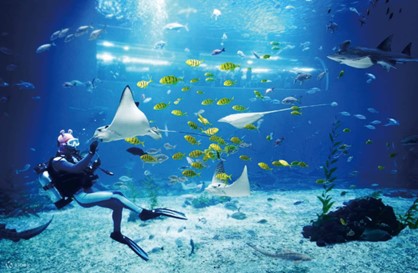 10. Manjanggul Cave
Anybody who's interested in geography, gather up! Here's the world's 12th longest lava tube at 8.928 km.
Discovered in 1958, it is highly regarded for its significant scientific and heritage value,
owing to its excellent condition of preservation despite its age of formation (about 300,000 to 200,000 years ago). 
Public can access up to distances of 1 km, and there are many different incredible things to see.
Tip: Remember to layer up as it's colder than expected even in the Korean Summer!
Also make sure to check if it's open or not, since it is occasionally closed for safety reasons.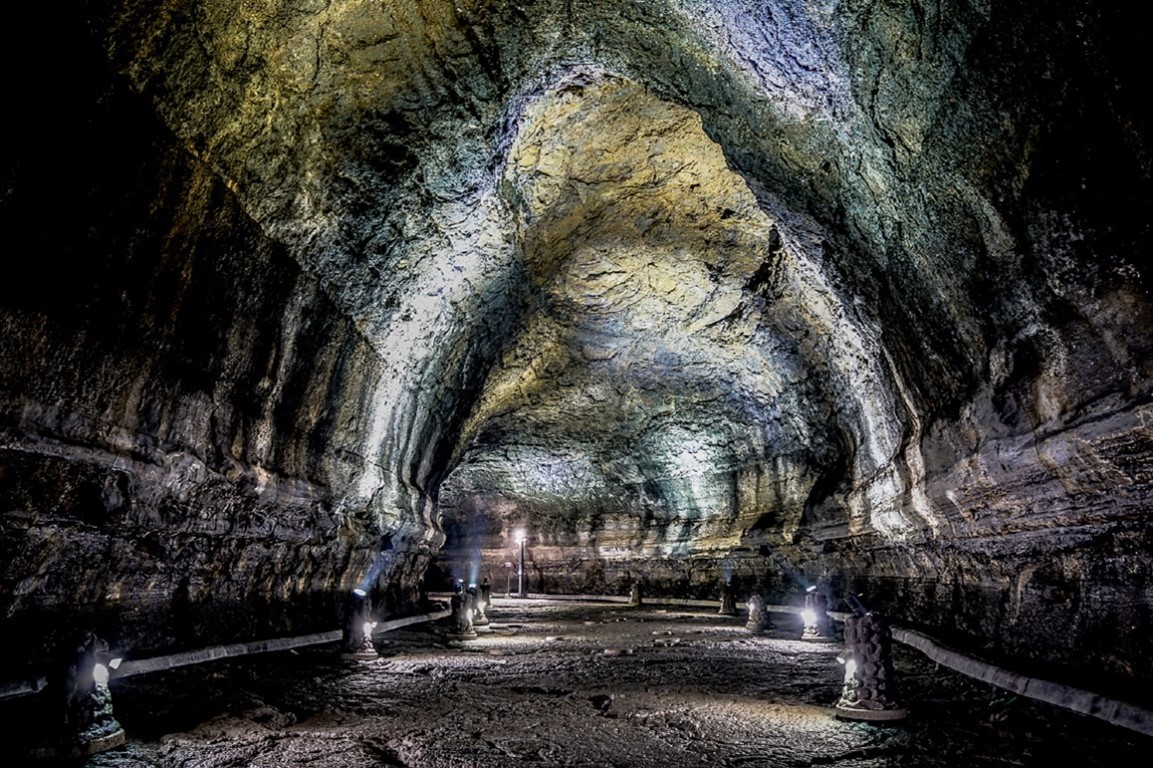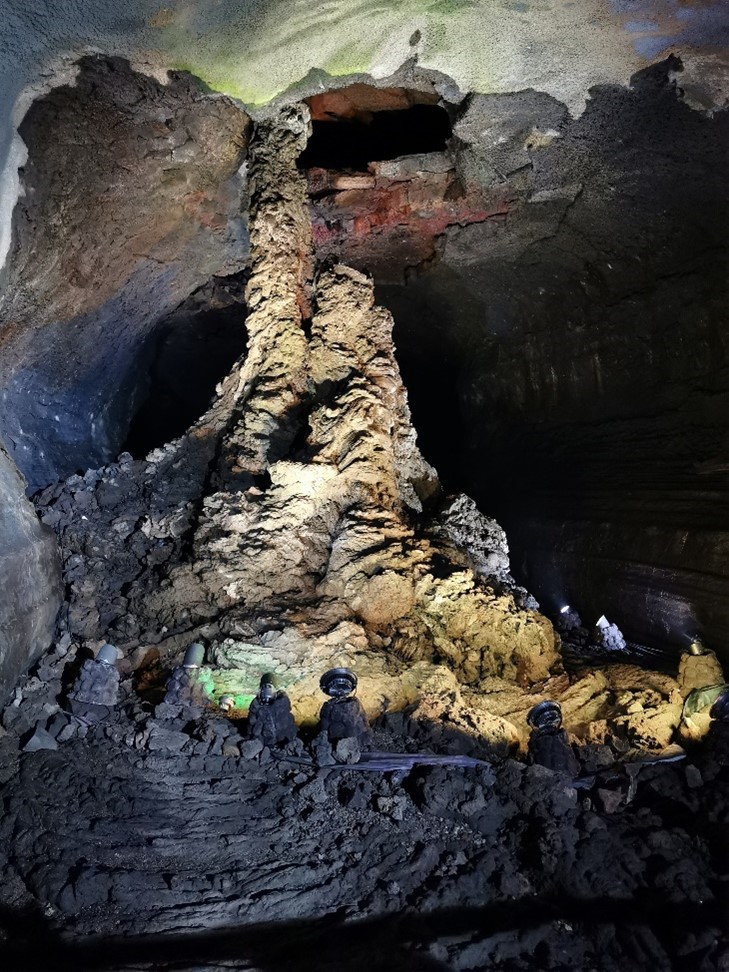 11. Geumneung Beach
This beach is one of the most beautiful and enchanting beaches on the island. It has gorgeous clear water, and soft, sparkling sand.
It is perfect for both children and adults as its shallow sea water expands up to 1 km when full tide,
and at low tide you can explore the sand bank for a million types of crab and fish.
In addition, riding on the waves at low tide is a lot of fun.
There is a boat trip to Biyangdo with a few hundred residents forming a small fishing village.
During the full tide, the sea is very calm.  
Tip: When tide changes, the sea level goes up faster than you think so ensure you have all your belongings with you,
as you can lose flip flops or even full bags if they wash out to sea.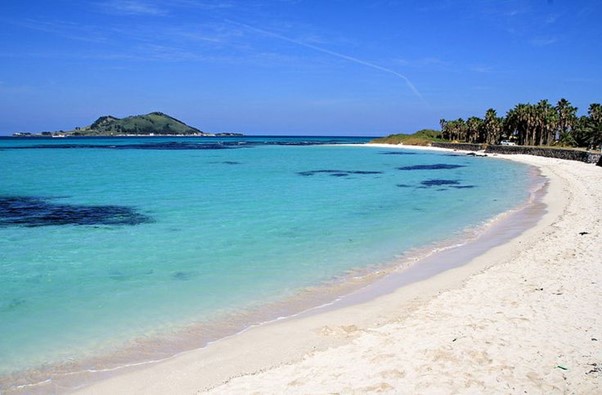 12. Osulloc Tea Museum
If you are a tea connoisseur, Osulloc Tea Musuem is for you. 
Opened in 2001, Osulloc Tea Museum is managed by Amore pacific, a Korean cosmetic company,
and has Jeju green tea leaves, tea, green tea ice cream and green tea roll cake, tea souvenirs sold.
You can take a stroll along the tea farm and there are other paths to go for a walk.
Its view over the peaceful green tea trees is sure to calm you!
Tip: There are classes such as tea blending course, premium tea course that you can book at the museum
(takes about 1 hour) to experience Jeju green tea first hand!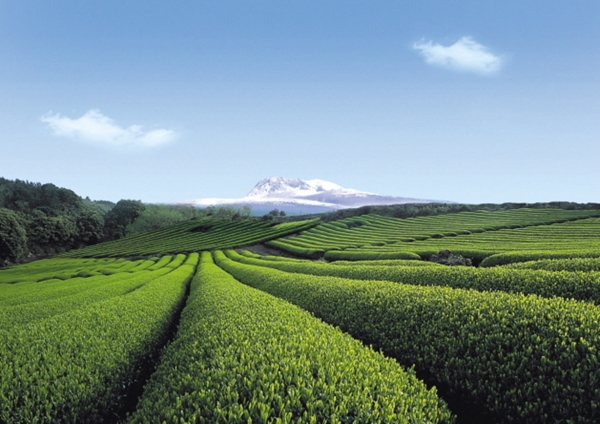 Feel free to ask at the Front desk if you have any questions! 
And most importantly enjoy Jeju Island!